Please note: We are no longer accepting orders at this time. Please check back at a later date or feel free to e-mail customerservice@maksplace.com to be notified when we open our doors again. Thank you.
Thanks for dropping by! We are sure that you will find something you'll like here! Browse through our store and check out all we have to offer you! If you're in a hurry, use our handy search box. We love giving out special deals so sign up for our monthly newsletter to get in on them! Our newsletter is filled with new products, announcements, and special deals! If you have any questions feel free to e-mail us or leave us voicemail. We hope you enjoy your stay!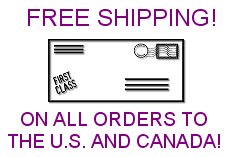 We now accept credit card payments using PayPal! It's free to use and you get $5 just for signing up!